Active gas wells across Pennsylvania 2003 & 2014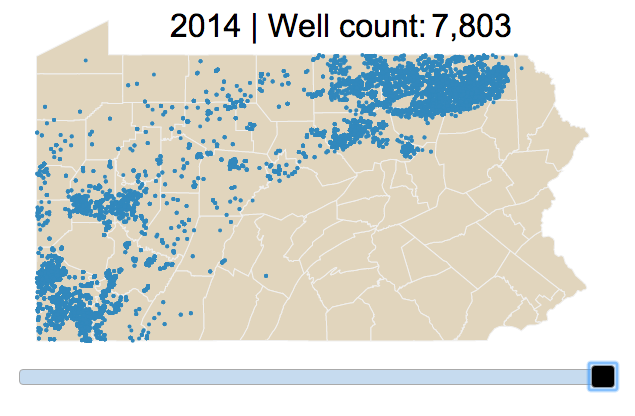 Credit: PennLive's series on fracking "The Shale Bargain"
It seems like almost every day a new study or investigative report comes out of Pennsylvania's Gaslands. They confirm what families have been saying for years- fracking is harming Pennsylvania communities and the government is failing to protect them.
Our Map of the Week comes from a new series by PennLive on fracking. 'The Shale Bargain' series is the result of a six-month long investigation that found the Department of Environmental Protection "relied heavily on energy companies to largely police themselves and, in the process, ignored citizens' constitutional right to clean air and water."
And what the maps show is just the beginning of what the fracking industry has planned for Pennsylvania. A new report from PennEnvironment found "that since the beginning of 2007, Pennsylvania has issued more than 19,300 permits for fracking wells," and "by 2030, Pennsylvania could see up to 60,000 wells extracting resources from the Marcellus Shale alone."
Knowing how much damage has already been done, it's terrifying to imagine what that map would look like with 60,000 wells.
The Pennsylvania Government is on board with fracking overtaking the state and is more interested in protecting the industry than its citizens. Something we're seeing in many fossil fuel extraction states.
But all over the country scientific evidence and public opposition is mounting against fracking. We wont stop until fracking is banned everywhere. Below are three powerful tools that you can use to share the truth about fracking with your community and elected officials.
Educate and activate your community:
Shalefield Stories -Volume 2: Shalefield Stories is a powerful compilation of first hand testimonies from people who have been harmed by dangerous drilling in the oil and gas shalefields across the US, many of whom are suffering in Pennsylvania's Gaslands.
To get your copy of Shalefield Stories visit http://www.shalefieldstories.org
 Compendium of Scientific, Medical and Media Findings Demonstrating Risks and Harms of Fracking, Third Edition: In easy to understand language, the Compendium summarizes hundreds of peer-reviewed studies on fracking. The Compendium covers numerous risks with sections on air pollution, water contamination, the threat of fracking infrastructure, climate change, worker safety and more.
View the Compendium: http://concernedhealthny.org/compendium/
GASWORK, The Fight for C.J.'s Law – GASWORK is a new short film by Josh Fox that investigates dangerous working conditions in the oil and gas fields.
Watch the film and take action at www.gasworkfilm.com and email screenings@gaslandthemovie.com to host a community screening
Thanks and have a great weekend,
Lee Ziesche, Grassroots Coordinator
If you have videos or maps you'd like us to share on our blog please email me at leeziesche@gmail.com