Below is a post from Chloe Maxmin, an incredible student organizer from Harvard University. Chloe is the co-coordinator of Divest Harvard, an organization that recently participated in a bold act of civil disobedience to engage Harvard President, Drew Faust.
Divest Harvard is calling on Harvard University to:
immediately freeze any new investments in fossil fuel companies
immediately divest direct holdings (currently $17.3 million) from the top 200 publicly traded fossil fuel companies
divest indirect holdings in the top 200 fossil fuel companies within 5 years, and reinvest in socially responsible funds.
If colleges and universities truly care about their students they cannot invest in the dirty fossil fuels that put the future of our planet in jeopardy. Supporting a system that imperils their future is a hypocrisy we can't stand for. We hope the brave actions by these Harvard students inspire more young folks across the country to act.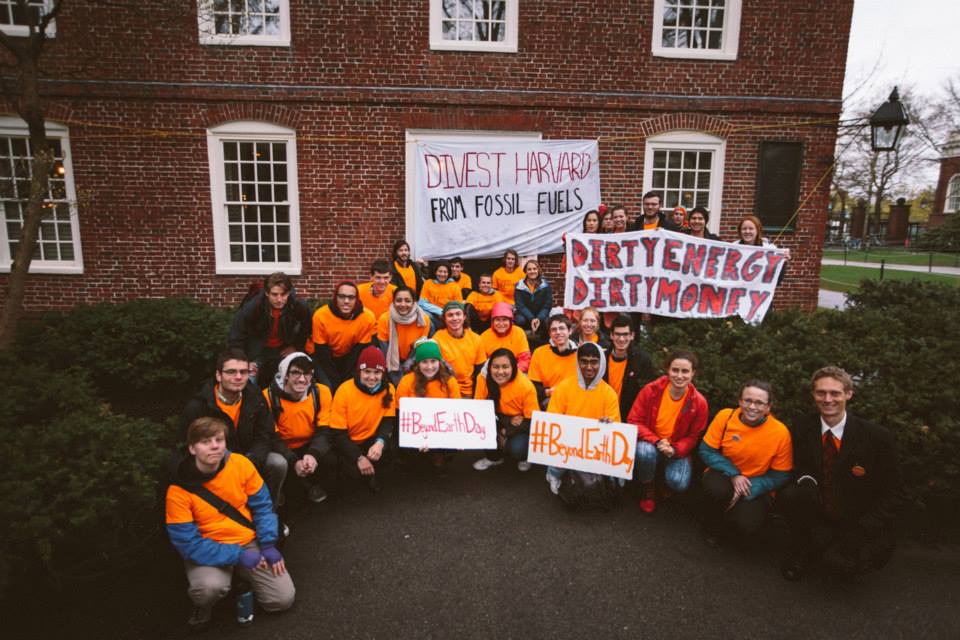 This week, I participated in my first act of civil disobedience. I blockaded the door to Massachusetts Hall (where Harvard President Drew Faust has her office) along with five other activists. We are members of Divest Harvard, and we were calling for an open meeting with President Faust and the Harvard Corporation. 
Planning and participating in the blockade was one of the most complex and rich experiences of my life. I have not yet had a chance to process everything that I learned, but one lesson does stand out in particular: show, don't tell. Let me explain…
Divest Harvard, a student-run campaign calling on Harvard to divest its $32.7 billion endowment from the top 200 fossil fuel companies, launched in Fall 2012. We first called for an open meeting with President Drew Faust in September 2013. Unsurprisingly, she said no. Since then, our meetings with the administration have been private and off-the-record. Therefore our group has been unable to expose the administration's  contradictory, hypocritical, and factually incorrect statements. 
We asked for an open meeting so that the Harvard (and wider) community can hear the administration's reasoning for opposing divestment and engage in a constructive dialogue about how Harvard is, and could be,  addressing climate change. As a University, dialogue is our central mission and  core value. Whether or not President Faust agrees with us about divestment, we should all be able to agree on the value of a public discussion. 
With this goal, we began the blockade at 6 am on Wednesday, April 30. Six students stood in front the door, we erected a banner on the building, and around 20 students came to sit in front of us to show that there is support and passion for this issue on campus. 
Within a couple of hours, the Harvard University Police had arrived, and it looked like they were going to arrest us. But they didn't. Administrators went through side doors—which we knew would happen—and we continued blockading the front door. Throughout the day, we held four rallies, talked with hundreds of passers-by, discussed our strategy, and danced to keep warm. We remained there overnight, sleeping in front of the door. 
In the morning—in 40 degree weather and a torrential downpour—we made a move to blockade the other doors into the building. Despite the fact that the police were out in force, we had determined that it was necessary to escalate the pressure. Drew Faust's executive assistant arrived at 7 am to enter the building. He walked right by me and other blockaders, and he never even engaged with us or asked us why we were there. He was blocked from entering, and the student who blocked him was arrested. The University decided that it was preferable to arrest a student than to have an open discussion about climate change and divestment. It was a violation of what is held most sacred in academic life and in a free society. It was a day of shame for Harvard.
Now to one of the most important lessons that I learned: we made the invisible visible. The public can now see the kind of ideology that students have been confronting in private meetings with the administration. By arresting a student, Harvard showed just how unwilling it is to speak publicly about divestment. It is unwilling to produce evidence-based reasoning to back up its claims. It is unwilling to be confronted and engaged in the spirit of open debate. Now the world can see Harvard's  intransigence, secrecy, and arrogance.  Show, don't tell. And that is what we did. We believe in a better Harvard just as we believe in a better world.
- Chole Maxmin, co-coordinator of Divest Harvard